Robot vacuums for hardwood floors and more – how to choose the perfect one for you? Robot vacuum cleaners are one of the most revolutionary "gadgets" for households. They take so much extra work off the users' shoulder and they continue to increase their intelligence. Manufacturers keep racing each other in coming up with brand new technologies that can make the whole cleaning process faster, more convenient and personalized.
A good robot vacuum for carpet and hardwood can be a life saver. When searching for the perfect one, it's good to take a good look into available models, rankings and other research. To make this a little bit easier for you, we've come up with our own list of 10 best robot cleaners for hardwood floors and other surfaces. Yes, this list includes the best Roomba for hardwood floors but it also presents more affordable alternatives that are available on the vacuum cleaner market.
TOP 10 Robot Vacuum Cleaners for Hardwood Floors
| | |
| --- | --- |
| 1. | iRobot Roomba 694 Robot Vacuum |
| 2. | iRobot Roomba i3+ EVO (3550) |
| 3. | iRobot Roomba i3 EVO (3150) |
| 4. | Shark AV752 ION Robot Vacuum |
| 5. | ILIFE V3s Pro Robot Vacuum Cleaner |
| 6. | Coredy R750 Robot Vacuum Cleaner |
| 7. | Samsung Jet Bot+ Robot Vacuum Cleaner |
| 8. | Eufy RoboVac 15C MAX |
| 9. | Teendow Lidar Robot Vacuum |
| 10. | MAMNV Robot Vacuum Cleaner |
Reviews
1. iRobot Roomba 694 Robot Vacuum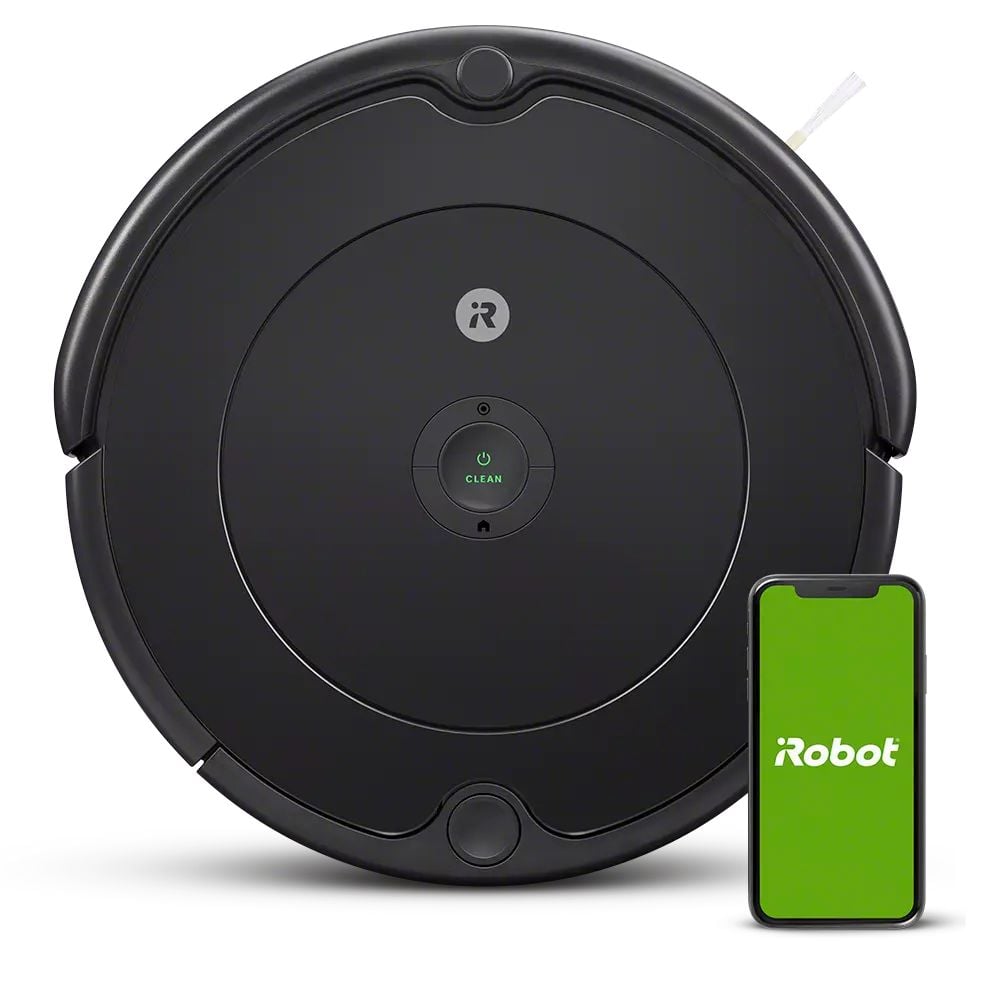 Roomba 694 has been continuously called the best roomba for hardwood floors and even the best hard floor robot vacuum. Undoubtedly, iRobot set a lot of great standards that many new series of robot vacuum cleaners chase to this day. 
Roomba 694 is a part of iRobot's 600 series and offers a great set of useful Smart technologies. This Roomba for hardwood floors learns your habits, your routines and can even make its own cleaning suggestions for you when needed (for example during shedding or pollen season when there's more hair and pollen flying around). It's compatible with both Alexa and Google Assistant while of course also being possible to control from the iRobot Home App. You can use this control to schedule a cleaning beforehand and the robot will do it without you having to think about it again. And that's not everything! In addition to that, Roomba 694 also recognizes and detects the dirtier areas of your home and cleans them more diligently. The runtime is up to 90 minutes after which Roomba automatically docks and starts recharging itself.
As many other robot vacuums from iRobot, Roomba 694 has 3 Stage Cleaning system consisting of lifting, loosening and sucking dirt, dust and all kinds of debris. To ensure that every type of surface is cleaned equally efficiently, it uses dual-multi surface brushes which flex to adjust to different surface types (from hardwood floors to carpets) and a unique auto-adjust cleaning head which changes the height level accordingly. 
Finally, when you're using Roomba you don't have to worry about the robot bumping into different objects, avoiding places under your furniture and similar issues. The robot is equipped with a full set of advanced sensors which help it navigate around the space it cleans. It also uses a Cliff Detect technology to avoid falling down from stairs.
2. iRobot Roomba i3+ EVO (3550)
Second position in our ranking is also taken by a robot vacuum for carpet and hardwood from iRobot. The Roomba i3+ EVO (3550) certainly has more Smart features but it's also less affordable than the Roombas from the 600 series which is why it landed in second place.
What's different from Roomba 694 and what's similar in the i3+ model? Main similarities are compatibility with Alexa and Google Assistant, creating seasonal and personalized cleaning suggestions, as well as favorite cleaning routines, Dirt Detect technology and the surfaces they can work on (both carpeted floors and hard floors). 
The first and main difference, that isn't connected to the Smart technologies, is the suction power. The Roomba i3+ EVO has a ten times stronger suction power than the robot vacuums from the 600 series. It can not only dock and start recharging after getting low on battery – it's also able to resume its cleaning afterwards and get the planned cleaning done. It has two rubber brushes (Roomba 694 has 1 bristle and 1 rubber brush) which are also great at adjusting to different types of surfaces. The i3+ model cleans and navigates in neat, straight rows, making sure it doesn't miss any spots and using its sensors to avoid falls and bumping into the furniture.
The Smart features of the Roomba i3+ EVO (powered by iRobot Genius) that are different from the previous model, are connected to its ability to create a smart map of the apartment/house. Thanks to Imprint Smart Mapping it can also be specifically targeted to clean one room of the user's choice. And with the Imprint Link Technology it can sync with Braava jet m6 robot mop for the hardwood floor mop and vacuum cleaning experience. Last but not least, this model comes with a clean base for automatic dirt disposal which means that the i3+ EVO can empty itself into an enclosed bag. The dust bag captures 99% of dirt particles as small as 0.7 microns and is able to hold up to 60 days of cleaning.
3. iRobot Roomba i3 EVO (3150)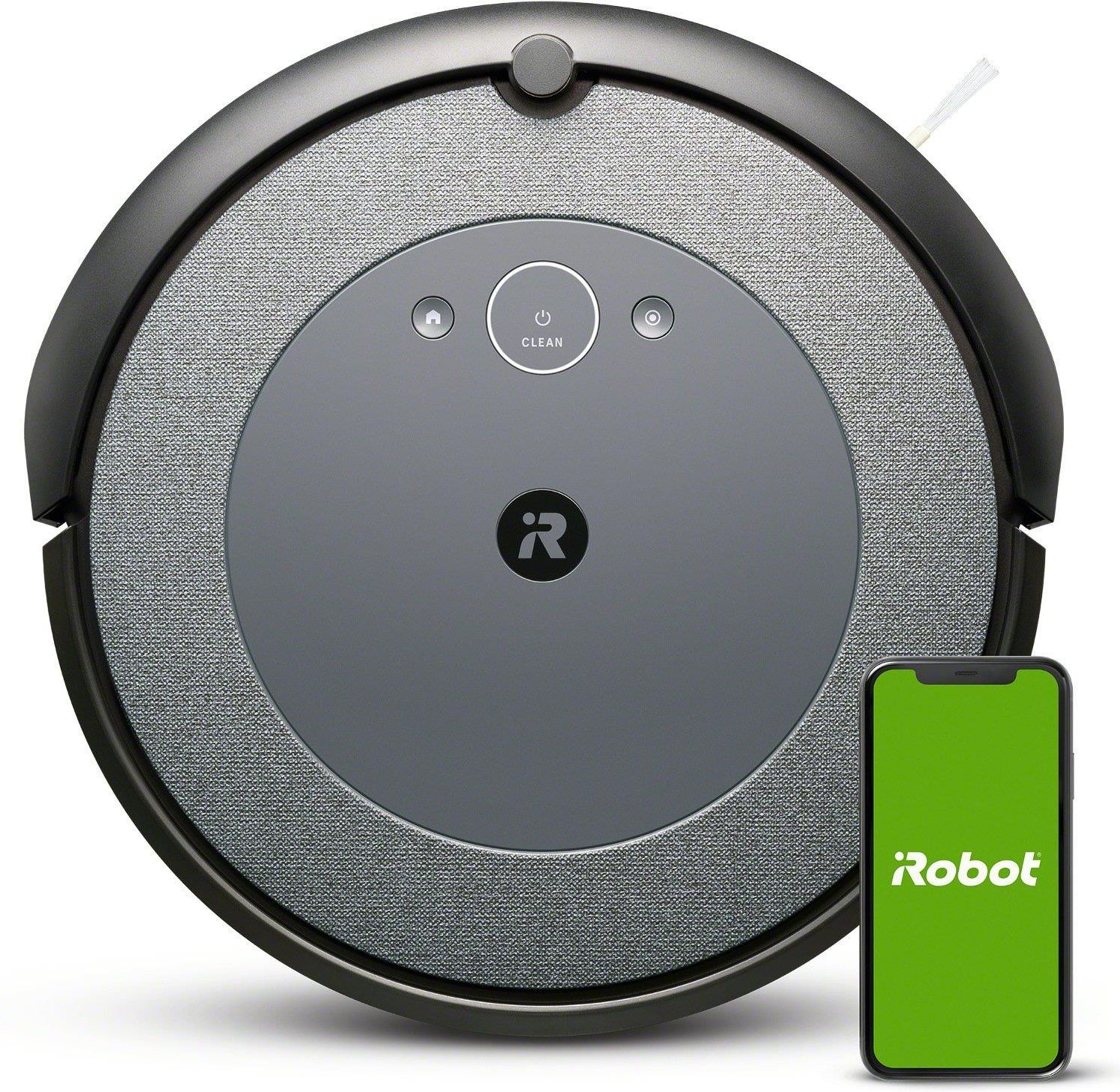 Although seemingly similar, the iRobot's Roomba i3 EVO and i3+ EVO are not the same models. What are the differences? Well, generally speaking the only difference in the i3 model is that it doesn't include the clean base automatic dirt disposal feature. Other than that, their Smart technologies are the same so if this particular function is not of great importance to you, you can choose the Roomba i3 EVO which is of course a cheaper option than the i3+ EVO.
4. Shark AV752 ION Robot Vacuum
Next up on our list is a robot vacuum from the brand Shark which is a good compromise between great quality and affordability. Shark AV752 ION has an incredibly long runtime (120 minutes) which definitely makes it stand out in the market. It's able to clean multiple types of surfaces and provide a deep cleaning on both carpets and floors thanks to the tri-brush system which combines a multi-surface brushroll, side brushes and channel brushes. The way this system works is that basically the dirt is firstly pulled in from edges and corners, secondly it's channeled into the cleaning path and finally gets picked up. Shark's best robot vacuum for pet hair and hardwood floors has a powerful suction that can handle even the deep-embedded dirt and pet hair.
This model of robot vacuum from Shark is a fairly simple one but it can be controlled through the SharkClean app as well as voice assistants (Google, Amazon Alexa and Vera). The app allows for scheduling the beginning and end of the robot's cleaning. 
To ensure that there are no crashes, bumps and falling down the stairs, Shark AV752 ION Robot Vacuum is equipped with a large set of sensors, including cliff sensors and bumper sensors. It also has a conveniently low profile which makes cleaning under furniture easy and accessible. 
5. ILIFE V3s Pro Robot Vacuum Cleaner
If you're a pet owner looking for an alternative robot vacuum, then ILIFE V3s Pro might be the answer for your struggles. This robot vacuum cleaner handles and picks up pet hair without tangling. It also works great on hardwood floors, tiles, laminate and low pile carpets. The transition between floors and carpets is smooth and easy thanks to its large RoadRover wheels. Additionally, its modern and low profile design enables it to reach all the hidden spots under furniture (beds, sofas etc) so no hair and dirt can hide from it.
The runtime of ILIFE V3s Pro is 90-100 minutes. When the battery gets low it automatically goes back to the charging dock. To avoid falling off the stairs, this robot vacuum has 3 built-in infrared sensors, as well as 10 sets of front infrared sensors to recognize and avoid obstacles.
Apart from the features mentioned above, ILIFE V3s Pro is a fairly simple vacuum cleaner. It can be scheduled in advance to start its daily cleaning routine and is simple to navigate with a remote with 3 modes to choose from (auto mode, space mode and edge mode).
6. Coredy R750 Robot Vacuum Cleaner
Coredy R750 is the best robot vacuum for hardwood floors in our ranking that can not only vacuum but also mop the floors. It comes with an electronically controlled water pump, a water tank and a cleaning mop cloth. The latest mopping technology used in this robot vacuum enables monitoring and controlling the level of water in accordance with the dryness and humidity of the cleaned floor (without spilling water). 
Coredy R750 can be controlled through an app on your phone, voice control and a simple remote. The app allows for monitoring real-time cleaning and accessories status, customizing cleaning and mopping levels or schedulizing cleaning. There is also an accessible online support service for all users.
Thanks to the boost-intellect technology, this robot vacuum cleaner is able to automatically increase its suction power almost right after moving onto a carpet (once off the carpet and back onto regular floors, the normal suction is returned). Although Coredy R750 doesn't have a built-in technology that would allow it to create "No-Clean Zones", it's compatible with magnetic Boundary Strips which can be bought separately. To prevent it from falling down the stairs, it has anti-drop technology with sensitive sensors, as well as anti-collision technology for avoiding all sorts of obstacles.
The running time when vacuuming is up to 120 minutes. With mopping, it ranges from 150 minutes (at low mode) to 90 minutes (at high mode). The filtration system in Coredy R750 comes with a washable HEPA filter that can filter most of the small dust and pollen particles.
7. Samsung Jet Bot+ Robot Vacuum Cleaner
Samsung offers its clients an advanced smart vacuum cleaner in the form of Jet Bot+ Robot. This model comes with precise LiDAR sensors which enable creating accurate room maps and their recognition. The latter makes it possible for the user to choose which spaces should (or should not) the Jet Bot+ clean. All of this can be accessed through the SmartThings App. It shows the robot vacuum's real-time status, allows for pausing and stopping and shows the user the cleaning history. Jet Bot+ is also compatible with Amazon Alexa, Google Assistant and Bixby. 
Jet Bot+ is a good option for cleaning all types of surfaces, from bare floors to carpets. It has the ability to automatically adjust suction power by identifying the underlying surface and the amount of dust with the Intelligent Power Control Technology. To avoid obstacles Jet Bot+ is also equipped with a set of infrared sensors.
The capacity of Jet Bot+ Robot Vacuum Cleaner's dustbin is 0.3 liters and it is fully washable. Emptying it is easy and hygienic thanks to the Clean Station which uses Air Pulse technology and a multi-layered filtration system (including a HEPA filter).
8. Eufy RoboVac 15C MAX
RoboVac 15C MAX was listed in "The Best Robot Vacuums for 2019" list created by Digital Trends and it has a lot to offer. What makes it special is that it provides up to 100 minutes of uninterrupted runtime with powerful suction while maintaining the noise volume at the similar level to a working microwave.
Eufy RoboVac 15C MAX is recommended for both carpets and hard floors – thanks to the BoostIQ Technology it automatically increases its suction power within as little as 1,5 seconds when a need for deep cleaning, such as carpeted floor, arises. And to make using it more convenient and simple, it can be controlled with a remote control, through voice control (compatible with Amazon Alexa and Google Assistant) and through the eufy Clean app. It also easily connects with Wi-Fi.
9. Teendow Lidar Robot Vacuum
Lidar Robot Vacuum is yet another intelligent robot vacuum available out there – with 8 sets of sensors and a fast 360 degrees scan it is able to create a map of your home in 6 seconds. It's also able to divide the map into sections and recognizes different rooms. You can easily control which rooms the Lidar Robot Vacuum is supposed to clean (and when) with the use of Teendow Robot App. It also enables creating exclusion zones and adjusting the cleaning modes. Voice control is also possible as Lidar Robot Vacuum is compatible with Amazon Alexa.
The sensors prevent bumping into various obstacles and falling down the stairs. The intelligent mapping system is also responsible for creating an efficient Z-shaped route which prevents the vacuum cleaner from missing any spots and saves its time. 
Lidar Robot Vacuum has dual rotating side brushes and is able to crawl on low/medium pile carpets. However, it is important to note that it is not suitable for high pile carpets or black/dark floors! And while we're on the subject of disadvantages, this robot vacuum cleaner does not support 5G networks (only 2.4G). On the other hand, it's also one of the most affordable smart robot vacuums out there.
The runtime of Lidar Robot Vacuum is 120 minutes. After the battery starts to run low, the vacuum cleaner will automatically head back to the charging station. It also has a quiet mode which enables cleaning with the noise of under 65 decibels.
10. MAMNV Robot Vacuum Cleaner
Last but not least, a simple yet efficient Robot Vacuum Cleaner from MAMNV. Like some of previously mentioned robot models, this vacuum cleaner can be controlled with both an app on your phone and a remote control, as well as Amazon Alexa and Google Assistant. The app allows for creating cleaning schedules, adjusting the suction power and keeping on track with any alerts and the lifetime of used accessories. 
This robot vacuum has a strong enough suction power to easily pick up debris and pet hair from floors but also carpets (its boost intellect technology allows it to increase the power after detecting a carpet). It has a runtime of 120 minutes and is able to automatically return to its charging dock station after the battery starts running low or after finishing the planned cleaning routine. To avoid obstacles, falling off the stairs etc, the vacuum cleaner is equipped with infrared sensors. An additional advantage is the low profile of MAMNV Robot Vacuum Cleaner – it easily runs under furniture such as beds and sofas.
The most important things to consider before buying your own robot vacuum
Buying the robot vacuum cleaner that's perfect for your house needs a little bit of planning. First of all, it's good to think about the surfaces your future robot will have to deal with. Are you looking for just the best robot cleaner for hardwood floors or do you need a model that works well on high pile carpets and can tackle even the most stubborn pet hair? 
Second of all, it's important to decide whether you want a robot vacuum that only vacuums or for example a hardwood floor steam cleaner vacuum. There's a lot of great dry/wet robot vacuums in the market but with this extra function the price also increases, so it's good to know beforehand if that's something you actually need and plan to use. It's also worth noting that only some robot vacuums offer both vacuuming and mopping functions. Some, like the mentioned Roomba robots, are only able to sync with another mopping device. While the outcome is similar, the cost is much bigger.
Finally, consider and assess your budget and priorities. The price range for robot vacuums is very wide so a well-planned budget can easily narrow down your choice and save you from extra hustle. It's also a matter of priorities. The more expensive and advanced robot vacuum cleaners usually come with more advanced smart technologies such as smart mapping. That isn't necessary for everyone. For example, the ability to create no-go-zones might be crucial for pet owners or bigger families but it might be of zero importance to other households. It's all a matter of personal preferences but realizing that and choosing your own expectations is a good start for a successful search.